Styles and decoration will flourish in 2017. It seems that when the economy is slowing down, we turn our attention to our home interior to find comfort and forget the world around us. From Bohemian Chic to the Scandinavian look or eclectic looks, the styles in 2017 are bound to charm - or surprise - us.
2016 Styles Are Still Trendy
The minimalist trend and the industrial look that have been popular in the past years are here to stay in 2017. Featured in the HGTV show Fixer Upper, the farmhouse style with shiplap walls will still be a hit in our homes as well as Mid-Century Modern-inspired elements.
In addition to these, we must note the return of the Scandinavian, Bohemian Chic, Memphis/Pop, and New Traditionalist styles.
Bohemian Chic
In 2017, we want to relax and yet to travel in the comfort of our home which is what the Boho Chic style is all about. It is tied to a nomad lifestyle and culture, vibrant colours, ethnic patterns on natural textiles and disparate furniture, mostly rattan, found in antique shops. It also brings back macramé creations from the '60s and the '70s as well as cushions and plants, lots and lots of them.
This style is for you if you like to travel, are a free spirit and have a taste for recycling and relaxing.
Source: The Glitter Guide
Source: Amber Interiors
Source: Ave Styles
Scandinavian
Often linked to the Hygge trend, the Scandinavian style is about relaxing, sharing and finding joy in the simple things in life.
As far as decor is concerned, simplicity is the key. The clean lines and functionality of Scandinavian furniture are a good combination with the mid-century modern style. White, pale grey or black are favoured colours with the addition of pastel shades or splashes of vivid colours such as mustard yellow or greenery, Pantone's colour of the year. Materials with a luxurious feel like cashmere or fur are given preference as well as natural wood.
This style is for you if you like clean lines, open-air spaces and enjoy a minimalist lifestyle.
Source: Decoist
Source: Sortra
Source: Decoist
Memphis Pop
The extravagant and high-energy Memphis-style dates back to the '80s. Characterized by geometric shapes and bold colours, it is both refreshing and contemporary. The components of the Memphis style that were revisited in 2017 style are the cartoon-like illustrations, black and white zigzag patterns and geometric, colourful and fun-shaped objects, furniture or accessories.
In any event, the Memphis style won't leave you indifferent. You either choose to go for the total look or for subtle additions of furniture and accessories.
This style is for you if you like design, you have a critical but playful mind and are unconventional when it comes to decorating.
Source: AD Architectural Digest Russia
Source: Jake Curtis
Source: Jake Curtis
New Traditionalist
Finally, the New Traditionalist style meets our need for stability in an unstable world. This can be seen with the return of a more traditional look as in Louis Philippe-inspired or upholstered furniture. To modernize their look, they are covered in velvet or in jewel tones like amethyst purple or emerald green.
New traditionalist decors are filled with brass accessories, mirrors in a golden frame, simple window treatments and classic lamps.
This style is for you if you prefer elegance and refinement, enjoy luxurious comfort and designer looks.
Source: Farmer's Daughter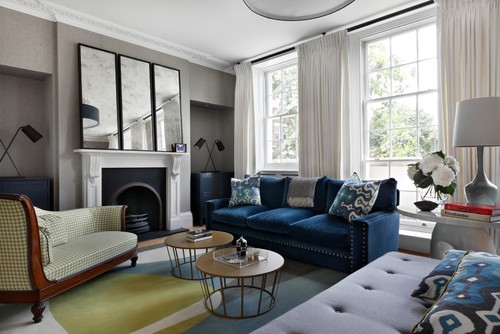 Source: Houzz
This has given you an overview of styles to look for in 2017. Which one suits you best?
Patrick,Your Furniture Expert